With over twenty-five years of activity managing and administrating common expenses and maintenance fees, Administración CIRIACO´S is made up of professionals whose priority is commitment to each co-owner. We have the participation of trained and reliable human resources, which enables us to provide the right service.

ADMINISTRACIÓN CIRIACO´S is a service tailored for you, that's why we manage your common expenses and maintenance fees with efficiency according to your particular needs.
We have permanent consulting at our disposal from a multidisciplinary team of professionals consisting of: architects, accountants, notaries, lawyers and insurance brokers, who support, advise, and enable the proper development of our activity.
This team is available on a permanent basis, studying and advising us in each case; and can accompany the administrator at the co-owners' meetings.
ADMINISTRACIÓN CIRIACO´S is a Limited Liability Company. It is registered with the Taxpayers Registry under No. 214,586,320,019, the Social Security Institute under No. 3,745,805, the Ministry of Labor and Social Security under No. 70.344, and owns a Professional Work Accident and Illness policy from the State Insurance Bank, No. 3,382,661.
We are also registered with the Ministry of Tourism under No. 877, and in compliance with Decree No. 385/97 we have a Surety Bond Bank Guarantee from the State Insurance Bank for 570,860 Indexed Units.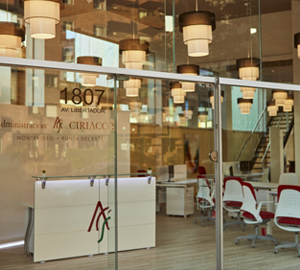 To serve different customers in a more than satisfactory manner, applying excellence, professionalism and dedication in each service. In this manner we achieve benefits for the customers that we administrate for, so that they receive the service they deserve and the quality of life they desire in their condominium.
To be leading company in condominium management and to be a reference in the domestic market, while growing our branches to expand the services available to our customers.